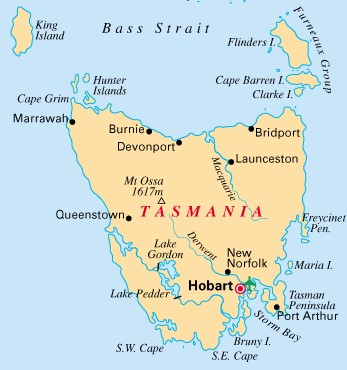 Web Site editor Garry Askey-Doran and wife Jean live in Hobart, Tasmania, the Island State of Australia. Tasmania is renowned for its wilderness areas and the pleasant and relaxed lifestyle that the environment and climate encourage.
Visit Discover Tasmania and see what's happening in our lovely State.
Garry is a Director of Southern Cross Care Tasmania.
Visit their latest 2013 project at:-
The Askey-Doran family originated in Tasmania, Australia and is gradually spreading around the world.

Every Askey-Doran is related

The password to enter the "James Askey" page listed on the top menu is available only to relatives or other approved persons. Please contact Garry Askey-Doran by e-mail to enquire.

It is intended that this Site be available for input from any member of the Askey-Doran extended family by contacting Garry Askey-Doran by e-mail.

The Askey-Doran family are the direct descendants of James Askey. James Askey (Tasmania) is the son of James Askey and Hannah Shakespeare of Birmingham, UK, who were married in 1807.

Clan MacLeod of Lewis includes the Sept of Askey.

The Askey and Doran family names merged to become Askey-Doran in the 1870s.

Garry and Jean plan to visit the UK in August 2012. They were last overseas from 28/03/2009 to 14/05/2009 which included almost 5 weeks in England and a 2 week tour of Europe. In England we stayed in London (2 weeks) and also spent time in Birmingham (family genealogy research), Manchester and Leeds, as well as several day trips

Our European Tour included Brussels, Frankfurt and Rhine area, Salzburg, Vienna, Budapest, Prague, Dresden, Berlin, Cologne and several smaller cities and towns in between. We also enjoyed two days in Bruge in an overnight ferry trip from Hull in England.

See the latest (13/08/2010) from Roni in Ecuador by clicking on the Menu above. My cousin Roni (Veronica) Askey-Doran who in 2008 lived in the Galapagos Islands for 6 months and has now moved on to Ecuador regularly e-mails me with news of her activities, supplemented with photos. Roni lived in Mexico for 6 months before moving to the Galapagos Islands. I have added a page to my Site entitled "Roni Askey-Doran's Personal Page" which you can access from the Menu above.

In June 29th, 2005 Garry and Jean returned from a 5 weeks holiday in Canada and Honolulu. In Canada they enjoyed a few days in Vancouver, followed by an 11 day tour of the Rocky Mountains and Vancouver Island. After a few more days in the Cities of Vancouver and Victoria then moved on to Honolulu for 9 days. Photos of the Tour are listed under Canadian Holiday but are password protected to respect the identity of co-tour members. This also applies to our 2004 European Holiday of 10 weeks in Europe and England (E-mail requests for the password will be considered). There is a short video on St. Paul in France - a holiday highlight (password not required).

Have a look at the South Cape photos under the Photos Link. They were taken by my Son in Law Bernd Meyer in January 2004 on a trip with my daughter Kate Askey-Doran.